Three Ways Doctors Are Using Virtual Reality (VR) for Surgery Today
Three Ways Doctors Are Using Virtual Reality (VR) for Surgery Today
s part of our ongoing VR and the Future of Medicine series, the zSpace Team is sharing stories about virtual reality and the medical field. Below is a guest post from EchoPixel, where we learn how doctors are already using VR for surgery.
Today, when doctors plan for surgery, they have to rely on piecing together a series of 2D images to understand the patient's complex anatomy and communicate the surgical plan to their colleagues. This becomes more complex when you consider the number of people who are often involved in a single surgery, from the surgeons to the radiologist to the operating room staff to the patients themselves. Important clinical information is often lost during this process.
EchoPixel has created a software platform, True 3D, that helps medical professionals intuitively view, interpret, and dissect interactive virtual reality images of patient-specific anatomy. Using a pointing device, the medical professional can reach in and interact with the virtual patient tissue and create cross sections in any plane for better visualization and measurements. It's powered by zSpace technology and available from HP. Doctors even use the technology while they're in the operating room. It looks like this: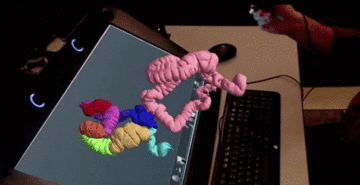 Here are a few examples of clinical sites currently using the system.
Taking VR to heart at Stanford
Medical professionals at Stanford's Lucile Packard Children's Hospital have been using True 3D to plan heart surgeries, allowing them to understand a patient's anatomy before making a single incision.
When one patient, Gina Milner, needed valve replacement surgery, her surgeon used True 3D to transform Milner's CT scans into a virtual 3D interactive object of her heart, lungs, and chest cavity. The surgeon was then able to rotate and examine every angle of her anatomy so that he could anticipate what he would see behind a tiny surgical opening at each stage of Milner's surgery. Milner's procedure was the first of many at Lucile Packard Children's Hospital using True 3D. Learn more about how the hospital's work with the technology on their blog.
A better fit for Lahey patients
When doctors are treating a patient with a brain aneurysm, they often implant a device into the brain to prevent blood from clotting in a small pocket of the blood vessel. The physician must size the device prior to implanting by integrating a series of 2D images to mentally reconstruct the relevant 3D anatomy. As you can imagine, that makes it difficult to accurately size the device that needs to be implanted.
But sizing the device properly is critical – if it's too small, it won't fully close the opening and if it's too large, it won't fit. At Lahey Hospital and Medical Center, doctors have been using True 3D's precise measurement and mapping capabilities to help them size the devices as they prepare for surgery.
Helping Cook Children's print right the first time
Cook Children's has created a 3D lab that combines True 3D with 3D printing. 3D printing is not a new tool in medicine, but it can be cost and time intensive. What's more, the final printed products are often inaccurate.
By directly leveraging True 3D to quickly create physical 3D printed objects, medical professionals are able to print with greater quality and accuracy, and to "print right, the first time." In some ways, True 3D is the WYSIWYG ("What you see is what you get") of 3D printing.
These are just a few of the many ways medical professionals are using virtual reality. In addition to surgery, doctors are using virtual reality for colonoscopies, training, and many other applications. There are even veterinarians using this technology. The common thread is the need to intuitively understand and interact with anatomy and ultimately improve patient care.
---
---