The D.O.C. Has a Plan and No One Can Do it Better
The D.O.C. Has a Plan and No One Can Do it Better
Remember the Super Bowl LVI halftime show with Dre, Snoop, Kendrick, 50 Cent, and Eminem? That doesn't happen without our homegrown D.O.C. Now, with a new documentary about his life, he's back in town with more big ideas.
By Zac Crain | |Photography by Elizabeth Lavin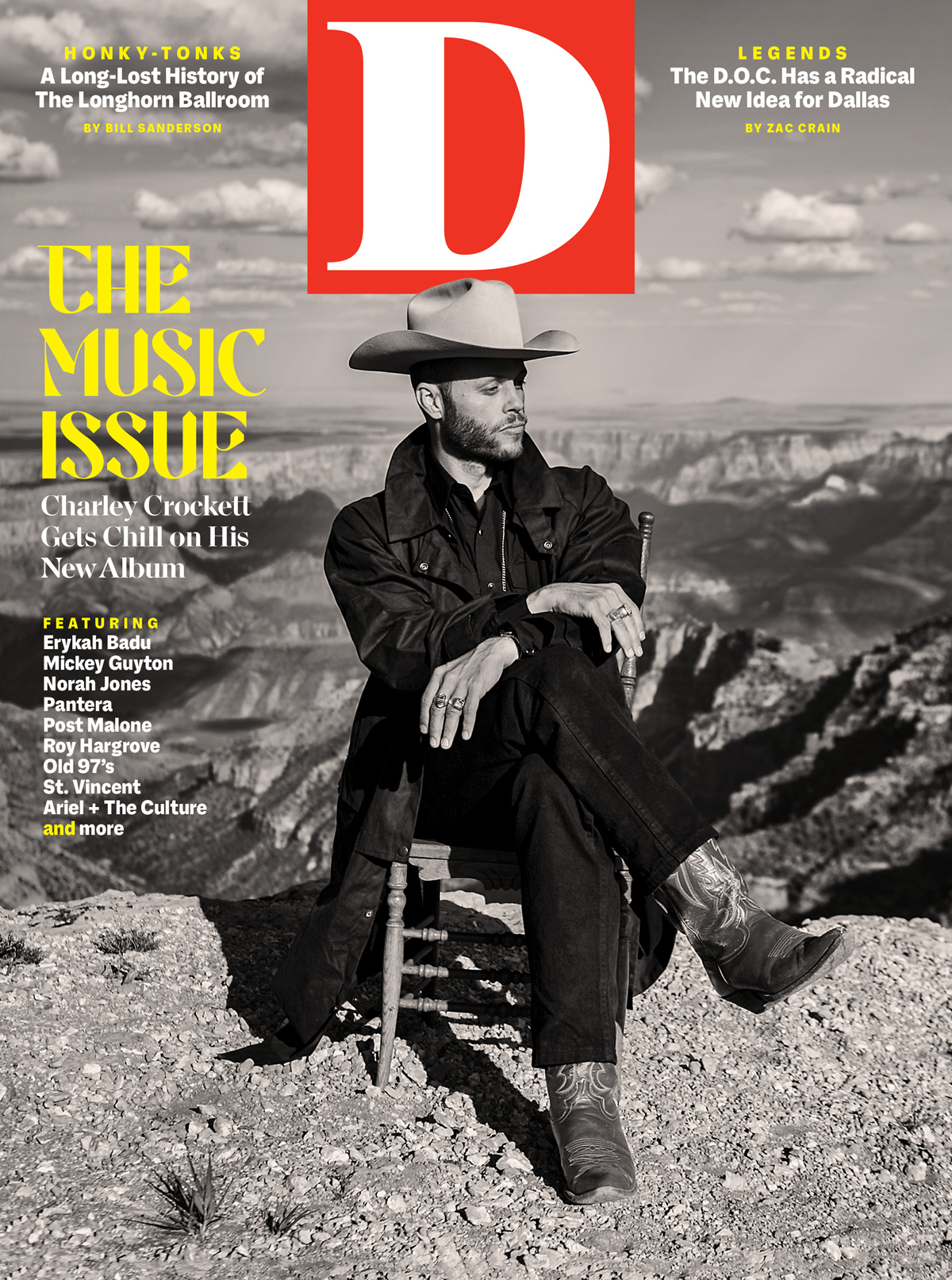 Subscribe
It's a Tuesday night in early July, and The D.O.C. is at the head of a long table in a private dining room at The Star, in Frisco. The members-only Cowboys Club is not far from where he grew up in West Dallas. Maybe half an hour up the Dallas North Tollway, pretty much a straight shot. But it's worlds away.
54-year-old D.O.C.—born Tracy Curry, Doc to just about everyone who knows him—is here with some of his partners, pitching an idea to Jessie Armstead that involves an epiphany he had three years ago. A standout linebacker at Dallas' Carter High School, Armstead went on to a successful 10-year NFL career, mostly with the New York Giants, that ended in 2003.
Some might take Doc for a former player, too, maybe a defensive end on one of Jimmy Johnson's early-1990s Super Bowl teams. He's worn the years well, looking much the same as he did on the cover of his Dr. Dre-produced, platinum-certified debut, 1989's No One Can Do It Better. He's big-shouldered and tall, a few inches over 6 feet. And his voice—even in its altered state, more than 30 years after the car wreck that changed everything—it commands attention. When he's engaged with a subject, as he is while explaining to Armstead what he wants to do, it conjures the distant roar of a lion. Doc has a presence.
"Well, we should cheers to that, should we not?" says Brad Woodgate when Doc finishes his presentation. Woodgate is a Canadian entrepreneur with musical aspirations. (To give you an idea: in June, he released a song about Joyburst, his no-sugar energy drink, with Vanilla Ice.) Woodgate wants some of the magic that Doc—who has a gold Death Row Records pendant hanging below his long, gray beard—has given to the likes of Dre and Snoop Dogg over the years.
Doc raises his glass. "Nobody said I couldn't talk," he says. He doesn't so much flash a wry smile as let the pause suggest one. "They said I couldn't rap."
November 14, 1989.
Some of the details have changed over the years, and some were misreported from the beginning, errors in the official account repeated until they turned into facts. But this much is absolutely true: the "golden voice" that Doc bragged about on No One Can Do It Better died that day.
He had already been pulled over once that night, the back seat of his Honda Prelude full of gold and platinum records—a flourish even the biggest hack screenwriter would edit out of the script. He was drunk and stoned, but the cops let Doc go with a ticket after posing with the rapper and his plaques.
A half-hour later, still drunk, still stoned, he was speeding down the Ventura Freeway. He passed out and the car drifted into the path of a concrete divider, hitting it at full speed. Doc, unrestrained, was ejected through the rear window. His flight was stopped when he hit a tree with his face. And despite all of that, Doc might have come away from the wreck virtually unscathed. He had broken no bones. The injuries to his eye and nose would heal after hours of surgery.
Too loaded on his own to be sedated, he fought against the doctors trying to intubate him. The tube they were trying to get down his throat—normally a relatively simple procedure—scraped his vocal cords, and that was it. The golden voice was gone.
It has improved over the years. He's even figured out, with some effort, how to speak with a normal-sounding voice. Not the one he had, though. Most of the time, his speech retains the rattle and hum of a blown speaker.
They said I couldn't rap.
To understand why it took Doc so long to move on, you have to remember what he was trying to get over. In 1989, he was 21 years old and at the top of the rap game, both as a solo artist and the unofficial sixth member of N.W.A, "the world's most dangerous group," the crew that brought gangsta rap to middle America.
In 1989, titling his first album No One Can Do It Better was not a boast. It was a statement of fact, peer reviewed, the product of a free-flowing tenor he wielded deftly, with a muscular and dynamic cadence. In 1989, listening to Doc rap was like watching Bo Jackson run. Powerful, shifty, mesmerizing.
No One Can Do It Better still sounds thrilling all these years later. Musically, it's a perfect bridge between what Dr. Dre was doing with N.W.A and what he would a few years later on The Chronic, a pastiche of samples giving way to live instrumentation, the producer's signature G-funk sound beginning to emerge on songs like the title track and "The Formula." But it's Doc's performance—the verbal dexterity of East Coast rhymers like Rakim wrapped in the aggressive tone of N.W.A—that made the album a hit, then a classic. The kind of foundational work that shapes a culture.
In 2004, Rolling Stone asked Chris Rock to make a list of his top 25 favorite hip-hop albums. He put No One Can Do It Better at No. 11. "I was going to school in Brooklyn, and the only time you could see rap videos was on a weekend show with Ralph McDaniels called Video Music Box," Rock wrote. "D.O.C.'s video for 'It's Funky Enough' premiered, and D.O.C. had an L.A. Kings hat on. When I came to school on Monday, half the kids in Brooklyn had L.A. Kings hats on." A year earlier, Jay-Z had shouted out Doc on "Public Service Announcement": "That's right HOV, not D.O.C./But similar to them letters, no one can do it better."
In 1989, The D.O.C. was 21 years old and at the top of the rap game.
No One Can Do It Better was the culmination of a whirlwind two-year stretch that took him from West Dallas penury to Los Angeles stardom to the ICU at Cedars-Sinai Medical Center. Doc had already achieved regional success with his group Fila Fresh Crew and their song "I Hate to Go to Work." Boom-bap novelty rap in the vein of "Parents Just Don't Understand," "I Hate to Go to Work" was played every morning on Tom Joyner's popular morning show on K104. (Joyner and his sports reporter Chris Arnold appeared in the video for the song.)
"I Hate to Go to Work" had almost nothing in common with what Dr. Dre was producing for N.W.A and its leader, Eric "Eazy-E" Wright, songs like "Dopeman" and "Boyz-n-the Hood." But he saw enough in the rapper, after working with Fila Fresh Crew on a few songs, to invite Doc to Los Angeles in 1988. A few days after he arrived, Dre brought him to his studio to meet Eazy and the rest of N.W.A. And less than 20 minutes later, Doc had written "We Want Eazy," which would go on to become the biggest single from Eazy's full-length solo debut, Eazy-Duz-It.
While "We Want Eazy" was a success for Eazy and for his Ruthless Records label, Doc saw none of the proceeds. He had given Eazy his publishing rights to the song in exchange for a gold chain, a mistake he attributes now to being "young and dumb and just hungry." Doc has estimated that the chain, an inch-thick rope topped off by a gold nameplate with some diamonds in it, cost Eazy about three grand. Giving up royalties on a hit for such a paltry sum would have been bad enough. But Eazy would later claim that the deal they struck gave him publishing on all the songs Doc would write or co-write for him and N.W.A while signed to Ruthless.
Even a conservative accounting can see what kind of money that means: Eazy-Duz-It eventually sold more than 2 million copies. N.W.A's Straight Outta Compton (featuring verses by Doc on the title track among other songs), sold more than 3 million after its release in 1988; 1991's efil4zaggiN, which had his lyrics on almost half of its cuts after Ice Cube left the group, would tack on another million in sales. That's not even getting into the various repackagings the songs have been a part of: soundtracks, greatest hits compilations, samples and interpolations in other material.
Since The D.O.C. was so closely aligned with N.W.A and wore the same Los Angeles sports team gear, many people assumed that the rapper was also from Compton. His L.A. Kings hat became a signature. He wore it in videos and on the cover of his debut album, No One Can Do It Better.
But Doc wasn't thinking about money then, not about the future. Not about anything much, really. When he wasn't in the studio or on the road, he was partying, drinking, and drugging his way through L.A.'s club scene. On his way to disaster. On his way to: They said I couldn't rap.
After Doc left Ruthless—understanding too late how much money he had lost—he and his friend Suge Knight started putting together a new label. People thought Knight was Doc's bodyguard because he was huge (he was an offensive lineman in college and played a few games with the Rams) and often had to clean up his buddy's messes—Doc would get loaded and hit on the wrong guy's girl—and he often did that violently.
Doc and Knight were calling the label Future Shock. Someone had suggested the name Def Row, but that belonged to another producer, named DJ Unknown.
"That's a perfect name for him," Armstead says, when Doc starts telling the story at the Cowboys Club.
"And a person whose name I won't mention and two other big ol' dudes brought the guy Unknown to my office and said, 'So, is you gonna come off of that or what?' And he said, 'Well …' And that was all it took. They started whupping this man's ass so bad—and my office was small. They're there and I'm here. I can't get out. All I can do is just sit and look mean because I didn't want to be the next ass getting whupped.
"The guy was yelling my name, holding my pants leg, saying, 'Doc, please, make 'em stop.' And all I could do was just stand there and look mean, like I'm a boss or something. On the inside, I was dying like a motherfucker. My heart is beating out of my chest. That's why, during those years, I spent so much time fucked up. Because I had to be, just to be in that environment. I have to be out of myself because I'm not a thug, bro. I'm a grandmother's boy. I read my grandmother her mail and shit. That's what made me feel good."
Listening to The D.O.C. rap was like watching Bo Jackson run. Powerful, shifty, mesmerizing.
Doc wasn't a gangster. He wasn't even really a gangsta rapper; No One Can Do It Better had the trappings of the genre but not the content, filled with rhymes about how dope Doc was but no actual dope. But he was surrounded by both.
He stayed there for years, not because of the money. He wasn't getting much of that, even though he wrote "Nuthin' But a 'G' Thang" with Snoop and contributed to other songs on The Chronic. Not because of the fame. The others got that. Seemingly everyone around him met with success—Nate Dogg, Warren G, Tha Dogg Pound.
He stayed because that was the only place where they were telling him he was worth anything to anyone. He stayed and kept drinking, doing drugs, numbing himself. He stayed and fell into a hole that just got deeper because Dre and Snoop kept rising higher and higher, ascending as he spiraled further down. It was right there, and he couldn't touch it. His old friend Suge Knight had pushed him out of the business they started.
"I know G-O-D is with me because nobody ever laid a glove on me," Doc says. "And I was in the middle of it every day. And they took all my money. But they couldn't take my heart. They couldn't take my gift. I thought it was here"—he points at his throat—"but it was here."
He points at his head.
Doc eventually left for Atlanta around 1994 and made it back to Dallas a few years later. I met him not long after that, when he was readying 2002's Deuce for release, which he billed as a proper follow-up to No One Can Do It Better, even echoing its cover art. But he was barely on it, practically a guest on his own record. He wanted Deuce to be more than it was, but he just wasn't capable of it.
At the time, he talked about building Dallas up, but he wasn't really ready for what he's doing now. He was still chasing the kid with the golden voice. He was still lost in what was, what had been taken from him, what he cost himself.
When the Rev. Peter Johnson came calling a few years ago, it was time. Doc had matured, gotten his drinking under control, helped raise his daughter Puma (her mother is Erykah Badu), and started talking to groups of at-risk kids. "Peter is a huge part of this," he says. "It was because of Peter that I kind of started down this road."
Doc very clearly remembers the first time he met Johnson. The longtime civil rights leader, who worked with Martin Luther King Jr., was crying, asking him to "help me figure out a way to help stop our babies from killing each other."
"And, like, what the fuck do you say to that?" Doc says. "Yes, sir."
This was in 2019. Johnson had summoned Doc to his Oak Cliff office, a spartan suite in the Bank of America building off Zang Boulevard. Johnson admits he didn't know much about him or his career. All he knew was that Doc was a rapper, or at least he had been at one time, and he needed rappers on his side for what he wanted to do.
Johnson has been developing relationships with athletes and entertainers for decades because he has learned through experience that they are the best way to get his message across. When he was growing up in the movement, he might get a church to help him if he promised that Jackie Robinson would come by and take pictures with the congregation, knowing that the legendary ballplayer was only a collect phone call away. He remembers paying a visit to Motown's Detroit headquarters to enlist the aid of the venerable soul label in reaching Black America.
"And cuckoo and crazy as Marvin Gaye was, they heard us," Johnson says. "In two months, Marvin Gaye released 'What's Going On,' talking about picket lines and picket signs and police brutality. Nothing helped us more than the fact that we had Motown and the entertainers with us."
For the generation he was concerned about now, the babies caught in the crossfire of the gun culture he believes popular music has at least glamorized, Johnson needed rappers. He needed them to convey his message, but he also needed them to take it to heart. He needed them to get involved. When Doc came to his office, Johnson had a request. He had been asked to travel to Arkansas to speak at the 62nd anniversary of the day a group of Black students—known as the Little Rock Nine—integrated the all-White Central High School in 1957. He wanted Doc to accompany him. Not knowing anything about him, he wasn't sure if he would agree. But Doc quickly said yes.
"They took all my money," The D.O.C. says. "But they couldn't take my heart. They couldn't take my gift."
In Little Rock, Doc was introduced to Elizabeth Eckford, the most prominent of the Nine. Due to a last-minute change in the plan on that day eight decades ago, Eckford had been separated from the others (who were all accompanied by their parents) and attempted to enter the school alone through the front door. Just 15 years old at the time, she was stopped at the door by the Arkansas National Guard and turned away, then pursued by an angry throng of White segregationists who threatened to lynch her.
"And she said to me, 'Why do y'all call women bitches?' I'm from Texas, so we're raised to be respectful. So I didn't know what to say to that," Doc says. "But that made me start thinking, like, 'Wow, maybe I need to figure out a different way to do what I'm doing.' That was the beginning of this journey."
Doc and Johnson both learned something in Little Rock. It was there where Johnson learned exactly who he had on his side now. During his keynote speech in front of a crowd of 5,000, heavy with high school- and college-aged kids, the reverend introduced his traveling party, eventually getting to his new friend.
"Fucking kids went crazy," Johnson says. "Jumping up and down and screaming. I'm trying to figure out who in the hell is this? Because I had no—I mean, I knew he was a rapper, but I had no idea of how significant he was to that generation of children until that day."
Soon, even more people will know Doc's story.
"Look, you've seen my documentary, didn't you?" Doc asks Armstead.
He's talking about The DOC, which premiered at the Tribeca Festival in New York a few weeks earlier, in mid-June. The film chronicles his life and impact on hip-hop, and it includes testimonials to his influence and importance from the likes of Dre, Eminem, Snoop Dogg, Ice Cube, and others. The screening's after-party featured a surprise walk-on performance by the rapper Slick Rick, one of Doc's heroes.
It won't get a wide release until later this year, first in theaters and then on one of the major streaming services. (Snoop coming on as an executive producer will help facilitate that.) But part of it is already out there.
In a scene from The DOC that went viral before the film's Tribeca premiere, Eminem explains that Doc was doing things lyrically on No One Can Do It Better that no one else had done before. To illustrate his point, he begins to recite the lyrics to "Mind Blowin'." As he does so, it is immediately apparent that Doc's cadence lives on in a dozen Eminem songs—the twisty-turny technicality, the moving-target rhyme schemes.
But he can't get all the way through it and calls for Doc to come out and help. "I never understood what he said on this part," he says.
He starts the verse again, and Doc enters the frame, squatting down blurry in the background—where he's usually been all this time—smiling along with his words. He starts banging his head as Eminem picks up speed.
The rapper gets to the trouble spot again and stops, turning to the writer: "What the fuck, what was that right there?"
Doc doesn't miss a beat: "Never a segment is negative/Cuz I'm employin' what you've been missin'." He says it slowly, hitting every syllable, then again faster. Not as fast as on the song but with a snap to it now.
Eminem starts to repeat, "'Never a segment is'—how the fuck did you say that shit, goddamn."
"I don't know," Doc says. "Shit just came out."
The scene was filmed at Dre's opulent Brentwood home, which itself acts as a testament to Doc's continuing impact. Remove him from Dre's story and that mansion belongs to someone else. It was Doc, after all, who convinced Dre to make The Chronic instead of just making songs for other artists, and it was Doc who helped persuade the producer to join the new venture he was building with Suge Knight, which became Death Row Records. Take Doc away and maybe more than 30 years of culture disappears, along with a mountain of cash.
Think about it. Without The Chronic, without Death Row, there is no Snoop Dogg, no Eminem, no 50 Cent. No Nate Dogg, Warren G, no Above the Rim soundtrack. No 1995 Source Awards. No Kendrick Lamar. No Beats by Dre, no billion-dollar Apple deal. No Martha & Snoop's Potluck Dinner Party. This year's entire Super Bowl halftime show—gone.
That is arguably how important Doc is. That's what he's worth. You can't blame him if he wants his piece, wherever it might come from.
"Somebody told me that, even though that clip is out in space, that I might be able to still mint it," Doc says at the Cowboys Club, talking about the two minutes of Eminem rapping "Mind Blowin'." "Make an NFT of that clip."
They said I couldn't rap.
Jessie Armstead heard a version of this when he was at the University of Miami. He's been mostly listening for the past hour. Now he starts to tell Doc his story. He begins a little hesitantly, but it's clear he's going somewhere.
Armstead arrived on campus, he says, with "that Texas swag," and with good reason. He was the No. 1-ranked player in the country coming out of Carter, the first player to be selected as a high school All-American three times. ("Did you see Friday Night Lights?" he asks Woodgate at one point during dinner—meaning the 2004 film, not the TV series. "I was the badass on the red team.") With Armstead prowling from sideline to sideline, Carter won a state title in 1988, a championship later forfeited after one of its players was ruled to have been academically ineligible.
"I came in I said, 'I'm gonna take over that place.' They were waiting on me, too. That was the best college in football." Miami was coming off a national championship in 1987 and a near miss the following year. It was the college football version of Doc joining Dre and N.W.A, the same year and everything.
"I did what I said I was gonna do," Armstead says. "But then, all of a sudden—you had your wreck. I tore my knee up. You tear your knee up, back then, everybody's done with you. Doctors walk away and they look at you like you have something wrong with you."
"Wow."
"Nobody want to talk to you." There were rumblings from the school about losing his scholarship, he says.
"I've got more years behind me than in front of me. So, I mean, this is a legacy thing."
"Wow." Doc takes his Louis Vuitton–branded cap off and leans forward across the table, listening like he's waiting for a secret code.
"I learned a lot from that," Armstead says. "I tore my shoulder up the next year. So I had total right side total reconstruction. They were done, like really done with me. I can't fail. If I do fail, if I do not make the National Football League—I still will not be a failure. I got my degree in three years. I can be a lawyer or whatever. But when you see me walk the street, you say, 'He had all the potential.' Nobody will say nothing about the injury part of it. They'll say I had all the potential."
"Yeah, that sounds familiar," Doc says.
Leaving Miami in 1993, Armstead, the former No. 1 player in the country, wasn't taken in the NFL draft until the Giants picked him in the eighth round, which they don't even have anymore. He was the 35th linebacker taken.
"So, in my rookie year, I'm flying on our plane, going to New York. There was a storm that day. And I'm hoping the plane go down."
Doc is riveted. Everyone around the table is.
"I would never kill myself, but if the plane went down that day, it would have been pretty good, because I didn't do it. And get to New York, made first team All-Rookie, second team All-Pro. But I wanted to kill myself when I run down the field. I hit anybody. That's how I got my name back. And then I didn't want to—don't get me wrong. I didn't want to hurt myself when I played. It was intentional. It took me a little while and then I became the man. That's why I always tell people, every morning I wake up, I work. I go at it." He pauses. "I know your story, and it's two different paths, but the same thing. Just sports, you know what I mean?"
"Bro, we got so much in common, where these stories are concerned," Doc says.
The difference is that Armstead, in time, was able to make it back to the top of his game. He was a three-time All-Pro and made five Pro Bowl teams and the Giants Ring of Honor. He was the last linebacker from his draft class to retire, in 2003.
Doc didn't get his chance. But maybe with Armstead's help—along with a few of his own famous friends—he can get to his own ring of honor.
Doc tells Armstead he has an initial goal of $15 million, enough to give him access to "real paper."
"To have the capital in-house to be able to do what the hell I want to do," he says, "I'm gonna go out and tap dance in front of anybody who would have me and help out with this thing. Tap dancing in front of Jessie today." Everyone laughs.
What Doc is trying to sell to Armstead and anyone who will listen to him is his solution to Peter Johnson's problem, what he can do to stop our babies from killing each other. Specifically, it's a school, an immersive learning environment based around STEM and the arts, where kids from underserved communities can learn to code or co-produce a rap album. It would be built on platforms developed by a Duncanville company called Esposure, which uses esports as a Trojan horse to get kids to learn. Esposure's co-founder, Rose Johnson, is here with him.
But the school is just the beginning of what the hell he wants to do. He sees the untapped potential in Dallas, especially when it comes to hip-hop. Beyond keeping kids out of the streets, making dumb decisions, beyond giving them a way into the music-business machine and the skills to make it once there, Doc sees a chance to bring all this talent together in one place—under his guidance. His aim is "to be at the helm of all things entertainment- and arts-related, at least from a hip-hop perspective."
"To see all the gold that's out there—that's my gold," he says. "And the same way that Dre came down here and snatched me up, I'm not letting nobody snatching anybody else up. So, the face of it is the school and the idea behind it is to course-correct our children but it is really an IP factory and a farm club for short stopping all the record companies. … And those children that are in these underprivileged places are brilliant. There's a potential Dr. Dre out there. There's a potential Snoop Dogg out there. There's another Doc, there's another Erykah Badu. Those things are out there."
It's been 20 years since The D.O.C. released an album and more than 30 since he put out one that showed the full breadth of his talent. But he's never stopped writing, and he still speaks in lyrics.
"Now that everybody's getting their just due," he says, "we're gonna make sure Doc get his, too."
This gets another laugh from the table at the Cowboys Club. It's a good line, one he couldn't resist, and it has more than a little truth to it. But he doesn't let it hang there too long.
"But we're just going to make sure it's done in a way that is not just about me," he says. "I don't need it all. I've got more years behind me than in front of me. So, I mean, this is a legacy thing: what's going to be here when I'm gone?"
For a long time, Doc was stuck on the idea of putting his school inside the former Women's Museum in Fair Park. "But that's sort of a tall order—sorting through so many loopholes with the city."
Anyway, the idea is evolving, expanding, maybe growing too big for that site. Doc was in Los Angeles last week, working with Snoop on a new album. Snoop is back under the banner of Death Row, which he bought earlier this year. While Doc was in L.A., he says Snoop let him know that he wants to build a home for his business interests in Dallas.
"So I'm just trying to figure out how it all works together," he says.
One way it might work: Death Row South, a branch of the label under Doc's direction, bringing it all full circle. Death Row South would have the name recognition but without the baggage, without the specter of Suge Knight and his red suit hanging over it all. "It's Death Row but it ain't Death Row," Doc says.
"We're about positivity," he continues. "We're trying to build things going forward in a way that these kids know that the best way to get it is the right way. It ain't the streets—that's gonna lead you one of two places that you don't want to be."
He envisions the label attached to the school, working in conjunction with it, the school acting as talent scout and incubator, the label a goal to work toward for his kids. "Being able to turn hip-hop into a commercial business down here, we never had the brand to be able to attach to it and do big business. But now that Snoop is showing up in the Super Bowl, you know, what better sort of person to bring that energy down here?"
He is getting a little ahead of himself probably, but maybe that is what's needed to make something happen. "Tyler Perry went to Atlanta and made that fucking place a bustling business. Why can't we do that here? And there's no reason why."
Nobody said he couldn't talk.
---
---